Victoria Wells: Workers dealing with low-grade malaise from pandemic and financial stress from rising cost of living
Article content
Workers are still struggling almost three years after the pandemic sent Canadians' mental health to new depths and that's costing employers billions of dollars.
Article content
Employee mental health is "strained," said Paula Allen, global leader and senior vice-president, research and total well-being, at Lifeworks Inc., a unit of Telus Corp.'s health division. Almost half of all employees report being more sensitive to stress, and 34 per cent are considered high risk for mental-health impacts, meaning depression or anxiety are interfering with their lives, according to the human resources company's latest research.
Article content
"I think employers would be shocked to actually know how many people in their workforce are struggling significantly and coming to work every single day with a big smile," she said.
One in five people are dealing with mental illness each year, and one in two has had one by the time they're 40, the Centre for Addiction and Mental Health said on its website. But access to treatment is lacking, and only half get the help they need.
Article content
It being January isn't helping matters, given that the third Monday of the month has been dubbed Blue Monday, or the most depressing day of the year. Blue Monday doesn't have any basis in research, but it does shine a light on well-being at a time when holiday bills are rolling in, new year's resolutions have been abandoned and the lack of light in the Northern Hemisphere all compound feelings of fatigue, depression and anxiety.
The winter doldrums are bad enough, but stressors from last year also haven't gone away. Workers are still feeling isolated — a major contributor to poor mental health — which is made worse for some by the continuation of remote work. Many are also still stressed from being thrust into a state of hyper-vigilance during the pandemic. Add to that political polarization and a war in Europe, and people are left with a kind of low-grade malaise that builds up over time, creating more risk to their mental well-being.
Article content
"We're going through a lot of upheaval," Allen said. "People are really just on edge."
A potential recession and the soaring cost of living have to be dealt with as well. Inflation and rising interest rates have put major pressure on people's budgets, fuelling the highest level of stress around money since the 2008 financial crisis, with 61 per cent of employed North Americans feeling more stress now than this time last year, according to research from Ceridian HCM Inc. and the Financial Wellness Lab of Canada.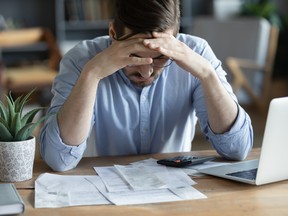 That stress is eating into people's workdays and more than 80 per cent of North Americans admit to taking time from work tasks to think about their personal finances. Almost a quarter of them spend an hour or more per day worrying about money. The result: billions of dollars in lost productivity, clocking in at US$50 billion in Canada and US$614 billion in the United States, the Financial Wellness Lab estimates.
Article content
In addition to the lost productivity toll on companies, mental-health disability claims are rising, up 8.7 per cent in 2021 from 6.4 per cent in 2019, Statistics Canada data shows.
The financial impacts should be enough reason for employers to take action on workers' well-being, and some have. For many, that comes in the form of offering employee assistance programs (EAPs), which provide counselling and support services. Those initiatives aren't just a perk, Allen said. They save lives.
But posting the EAP hotline number in the staff break room and calling it a day isn't enough, experts say. Employers must also focus on creating workplaces that promote respect and inclusion, both of which are vital for well-being. That might mean training managers to address employee concerns, and how to spot and help a worker in crisis. Those measures create a productive work environment, and keep employees feeling supported, leading to greater loyalty and retention, thereby eliminating the costs of hiring and training in a tight labour market.
Article content
The tyranny of the office meeting: How meeting bloat is killing productivity

Bosses beware: Employees are thinking of quitting, and a recession isn't going to stop them

Return of government employees to the office might signal death of full-time remote work

'They're always looking for something better:' Workers ghosting employers more often in search for higher pay
Of course, mental health isn't solely the responsibility of employers. January is an ideal month for individuals to take steps to shore up their own well-being as well as that of those around them. "At this time of year, we have to really be intentional about taking as much control as we can and supporting each other as much as we can," Allen said.
She suggests making concrete plans to connect with friends, which buoys mood by creating something to look forward to and addresses isolation. Seeking professional help is another option, especially if the dark and gloomy days of winter are taking a major toll. People should also ensure they're not putting off seeking help, since that can turn a difficult situation into a crisis, Allen said.
Article content
"Don't take mental health for granted," she said. "Every single one of us has a certain level of vulnerability, and often we don't know how extensive that vulnerability is until we've crashed right through it."
A popular adage states: be kind, you never know what someone might be going through. It's a saying worth following if you're paying attention to mental-health statistics. With so much of our time spent working, employers have a unique opportunity to make a difference. If bosses aren't moved by the ethical and human case for addressing employee mental health, perhaps the financial benefits will be enough to move their hand.
• Email: vwells@postmedia.com | Twitter: vwells80