"Walking away (from an emergency room) is a reflection of suboptimal care," said Dr. Eddy Lang.
Article content
Nearly one in five patients seeking emergency care at the Centre hospitalier de l'Université de Montréal (CHUM) leaves its ER in frustration without ever being seen by a doctor, a comprehensive new report reveals.
Article content
And at the Royal Victoria Hospital, 16.6 per cent of patients quit its overcrowded ER without being examined by a physician — a situation that could potentially put some individuals at risk to their health, according to the periodic report by the department of emergency medicine at McGill University.
Article content
The 79-page confidential report obtained by the Montreal Gazette paints a portrait of the city's ERs in crisis, with several key indicators worsening in most hospitals in the past five years. The stats, covering the months of April and May, belie assertions by Health Minister Christian Dubé that the conditions in ERs have improved after he created a so-called crisis cell last October to reduce overcrowding.
"It's completely unacceptable to have so many patients leave ERs without being seen by a doctor, but this is a reflection of the current reality," an emergency specialist told the Montreal Gazette.
Article content
"We're taking this seriously," added the doctor, who did not take part in the McGill report and who agreed to be interviewed on condition of anonymity to speak freely about the issue.
The source added that in rare instances, a patient with chest pain may leave an ER without being examined and then suffer a heart attack at home.
"We want to find that little old lady who's too polite to tell the triage nurse that she's leaving the ER for fear of insulting the nurse," added the source. "She just quietly goes home."
Of the 15 Montreal hospital ERs tracked in the report, an average of nearly 12 per cent of patients — or more than one in 10 — left without being examined by a doctor. The lowest rate was observed at the Jewish General Hospital at 5.1 per cent and the highest were at the CHUM (17.5 per cent), followed by the Royal Vic (16.6 per cent).
Article content
Off the island of Montreal, the Hôpital de Saint-Eustache reported the highest rate overall, 24 per cent.
"That's an absolutely horrible rate," said a health-care manager, who also declined to have their name published to speak candidly about St-Eustache Hospital. "That hospital should be investigated."
Dr. Eddy Lang, who used to work at the Jewish General's ER before moving to Calgary 13 years ago, reviewed the McGill stats for the Gazette to provide an independent opinion. The phenomenon of patients who leave without being seen by a doctor is known in ER medicine by its abbreviation, LWBS.
"These patients have low rates of bad outcomes but not zero. Remember the maritime death of a lady who (was) LWBS," said Lang, alluding to the case of a 67-year-old woman in Nova Scotia who died from a heart attack at home on Dec. 30, 2022, after leaving the ER at Cape Breton Regional Hospital following a seven-hour wait.
Article content
LWBS is "an important measure of how well (emergency departments) function, and one in seven walking away is a reflection of suboptimal care," added Lang, who is now scientific director of the Alberta Health Services Emergency Strategic Clinical Network.
A study last year published in the Journal of the American Medical Association (JAMA) found that the median LWBS rate in American ERs doubled from 1.1 per cent in 2017 to 2.1 per cent in 2022 — far lower than the Montreal rates.
However, the Montreal ER specialist pointed out that the U.S. figures reflect the fact that American for-profit hospitals earn more revenue treating emergency patients who have medical insurance, in contrast with Canada's universal health-care system.
Article content
Still, the McGill report noted that LWBS rates have worsened at 12 out of 15 Montreal hospital ERs in the past five years during a 50-day period in April and May. Jean-Talon Hospital's ER recorded the greatest deterioration in LWBS rates, going from 7.8 per cent in 2019-2020 to 13.7 per cent in 2023-2024.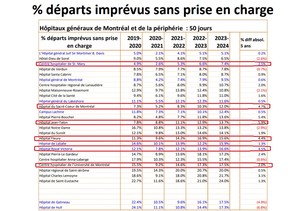 But there have been some modest improvements, with the LWBS rate in Maisonneuve-Rosemont Hospital's ER dipping from 12.9 per cent five years ago to 10.8 per cent for the corresponding period this year.
Asked to comment on the fact that the CHUM reported the worst LWBS rate in the city, spokesperson Andrée-Anne Toussaint replied in a brief statement on Friday that the hospital network is doing everything it can to avoid patients leaving its ER without being seen.
Article content
"The CHUM is aware of this situation and is doing everything it can to remedy it, including redirecting certain patients to medical clinics and setting up alternative outpatient solutions."
The MUHC — which oversees the Royal Vic — provided a more detailed statement:
"We are indeed concerned about the level of traffic in our ERs and recognize that this has an impact not only on our patients and their families but also on our staff and our physicians," MUHC spokesperson Gilda Salomone said.
"Systemic and structural factors largely explain the difficulties encountered in the MUHC emergency department. The MUHC has a higher ratio of emergency room visits to beds than some other comparable hospitals. Furthermore, 14.5 per cent of our adult beds are occupied by NSA (niveau de soins alternatif) patients at the moment, a rate which is well above the (health ministry's) target. These are hospitalized patients who have already received specialized care and no longer require the sophisticated environment of a (university teaching hospital)."
Article content
Dominique Gauthier, a spokesperson for the Laurentian health authority in charge of Hôpital de Saint-Eustache, directly addressed the problem of its ER's high LWBS rate.
"Since last fall, the hospital triage committee has been paying particular attention to analyzing the files of people who leave the emergency department without seeing a doctor," Gauthier said. "The main reason for this is the waiting time, a situation mainly linked to the high occupancy rate of our beds and stretchers.
"We have a number of initiatives underway to improve wait times, including our recent agreement with a new pediatric emergency clinic, which will enable us to direct our young emergency patients, who account for nearly 20 per cent of consultations," Gauthier added. "In addition, … home-care support projects aim to free up beds to relieve overcrowding in our emergency department."
The Montreal ER specialist noted that doctors must call back patients who leave without being seen to check up on them. Still, not every patient can be reached and not every hospital follows up as a matter of routine.
Montreal ERs fall far short of Canadian triage guidelines: report

Quebec's ERs are flirting with danger

ER overcrowding: Staff now say a prayer before each shift at St. Mary's Hospital