New polling data shows NDP ahead in Calgary
Article content
Alberta's leading political parties made competing vows related to health care on Saturday, with the United Conservatives promising investments into care for women and children as the New Democrats pledged hefty recruitment bonuses to attract more health workers to the province.
Article content
NDP Leader Rachel Notley said if her party gains power in the May 29 election, it would earmark $70 million annually to give $10,000 signing bonuses for doctors, nurses and other health professionals in what she called an ambitious but "critical short-term measure to keep our hospitals open and ensure Albertans in need of care are getting it."
Article content
She also promised an NDP government would add 10,000 university spaces in a variety of health-care programs — at a cost of $375 million over three years — and develop plans to streamline international credentialing and provide income supports to make it easier for foreign-trained health-care workers to find jobs in Alberta.
Notley framed the commitments as part of the party's solution to the "health-care crisis." She noted Friday evening emergency room wait times of more than 12 hours at Calgary's South Health Campus and Peter Lougheed hospitals.
"Today, I come before Albertans with an ambitious plan to make this stop," she said. "Danielle Smith and the UCP will say this can't be done, but that's because they just don't have the determination. What they do have is a plan to sell off our hospitals to corporations. What we have is a plan to staff them."
Article content
UCP Leader Danielle Smith vowed an expansion of the conditions for which newborns are screened at birth, funding for testing, educational supports, and programs for children with autism and other complex disabilities, and the development of a provincewide midwifery strategy. The party would also provide a $10-million legacy grant to the Alberta Women's Health Foundation to fund women's health research.
"Women and children have special health needs that need to be met if we're going to improve health outcomes," Smith said. "Whether it's increasing funding for obstetrics and midwives, working to expand newborn screening or supporting important research, today's announcement will help more Albertans lead healthier lives."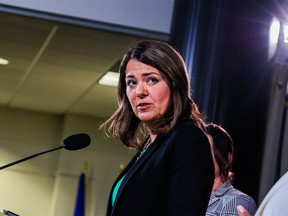 Smith said doctors, midwives, and nurses would also be eligible for the UCP's recently announced Alberta is Calling signing bonus and graduate retention tax credit "so we can attract and retain more practitioners in Alberta."
Under those programs, eligible newcomers would receive a $1,200 payment after their first full year of living here, and graduates from an accredited Alberta post-secondary institution could be eligible for up to $10,000 in credits if they stay in Alberta and find work in an in-demand field. The UCP criticized the NDP's announcement as a "copy" of those recently announced policies.
Parties continue trading barbs on health care
"Rachel Notley and the NDP may talk a good game on health care, but their actions will inevitably undermine it," said Smith.
Notley criticized the UCP's track record on health care, saying it makes any bid to attract health workers a tougher sell.
"Alberta's NDP is committed to restoring a trusting relationship with all health-care professionals," Notley said Saturday. "With the UCP, we've got a government that ripped up the doctors' contract right after they got elected, threatened to fire thousands and thousands of frontline health-care professionals and very recently referred to physicians as Nazi sympathizers. With that setting, it is hard to imagine Alberta succeeding in a recruitment campaign in competition with other provinces."
The UCP has touted its recruitment success, noting that Alberta added "over 1,400 new internationally trained nurses" in April, citing the number as a record. That claim is disputed by the United Nurses of Alberta union.
Article content
The UCP and the NDP have butted heads on health care throughout the campaign. Last week, Notley called Smith out over a resurfaced video clip from a 2021 event where the then out-of-politics Smith floated the idea of privatizing major Alberta hospitals. In the wake of that criticism, Smith has repeatedly reaffirmed her party's commitment to public health care. 
"The only card that Albertans will ever need to access health care is their health-care card. Any NDP attack to the contrary is completely and utterly false," Smith told reporters Saturday.
While vowing that the party has no plans to sell off hospitals, Smith has said a UCP government would continue contracting surgeries to private facilities in a bid to clear the surgical backlog.
NDP ahead in Calgary: poll
New polling numbers released Saturday by Abacus Data show the NDP ahead in a provincewide survey, including notable gains in Calgary. The data, based on a survey of 885 eligible voters from May 9 to 12, shows roughly 43 per cent favour the NDP, while the UCP sits at 35 per cent. Abacus's last poll in April had the two parties neck-and-neck at 36 per cent.
Article content
Among decided voters, those numbers are even more stark. The NDP holds a 10-point margin over the UCP, 51 per cent to 41 per cent, according to Abacus. And in Calgary, widely perceived as the election's main battleground, the NDP sits at 42 per cent support, up six points on the UCP's 36 per cent.
The NDP has a sizable 33-point margin in Edmonton (56 per cent to the UCP's 23 per cent), while the UCP holds an 8-point lead in other areas of the province (43 per cent to the NDP's 35 per cent).
"We knew that this was going to be a tough election," said Smith. "I mean, we went for two years polling behind the NDP … I was so pleased to see going into the election that we've narrowed the gap. We do have a lot of work to do to get people to understand just how important this election is that we don't go back (to the NDP)."
Notley was largely unfazed by the new poll.
"When it comes to horse-race polls, there are good polls or bad polls, they will change," said Notley. "It's trite, but it's really true: the only poll that matters is the one that people participate in on election day."
Abacus Data says the margin of error for a comparable probability-based random sample of the same size is +/- 3.4 percentage points, 19 times out of 20.
mrodriguez@postmedia.com
Twitter: @MichaelRdrguez