'There are more students than ever participating and attending these programs'
Article content
School nutrition programs continue to face huge demand in Calgary as poverty rates rise and food prices become unmanageable, with expectations things will only get worse in 2023.
Article content
After months of fundraising collected $300,000 this fall, the Breakfast Club of Canada, which serves nearly 30,000 kids in 280 Alberta schools and communities, is still facing a $2-million shortfall.
Article content
As a result, they will be launching another campaign for donations over the holiday season as they brace for even further hikes to food prices.
"We are very grateful for all the donations we received this fall, but we still continue to face many challenges," said Judith Barry, co-founder and director of government relations with Breakfast Club of Canada.
"Especially when you look at inflation, and the increased costs of food. That has had a direct impact on our ability to maintain our programs and support kids properly given their very high level of need.
Article content
"There are more students than ever participating and attending these programs."
Need for kids' school lunches rising alongside food prices

Charities feeding those in need feeling the pinch with food prices higher than ever

Charity feeding Calgary kids expecting spike in demand, costs amid food price inflation
Nearly 200 schools across Canada are still on a waiting list to receive food from the Breakfast Club, which delivers pre-packaged food to schools for students to voluntarily grab before they start their day.
"It's a matter of putting ourselves in the skin of those families who were already challenged prior to these price increases," Barry added.
"And we know that now they have to make very hard choices."
Article content
Food prices continuing to rise
After inflation has created huge spikes in the cost of living over the past year, the latest data say things are expected to get even worse after the new year.
According to the annual Canada Food Price Report released in December, food prices are expected to continue to rise by up to seven per cent in 2023, with vegetable prices seeing the biggest hikes of as much as to six to eight per cent.
As Canadian visits to food banks continue to rise, the report also calculated the annual food expenditure for a family of four will hit $16,288 in 2023, an increase of $1,065 from last year.
At the same time, officials with another school nutrition program say they also worry about next year's growing costs.
Article content
Brown Bagging for Calgary's Kids has also launched a holiday fundraiser, hoping to meet more of the growing need of kids facing poverty and food insecurity.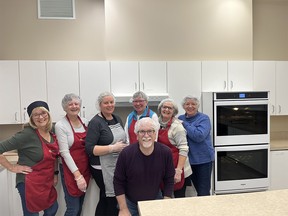 "We are supporting more than 6,000 kids a day right now," said BB4CK executive director Bethany Ross, explaining that's up by 1,000 students from a year ago, with 600 of those kids added in just the past four months.
"There are lots of families struggling to purchase food where that has long been a challenge, where it has been pervasive. So now, when costs go up the way they have, it has a very serious impact," Ross said.
"But now you are also seeing families impacted that were not struggling before, who were never having to create food budgets or focus on prices. Now they too are facing a lot of pressures."
Article content
Thousands of kids facing food insecurity
To date, about 220 schools with the Calgary Board of Education are offering school nutrition supports, while another 3,300 students with the Calgary Catholic School District are using food supports in schools.
But Ross expects those numbers will go up after the new year.
According to the latest StatsCan figures from 2021, one in every five children are now facing food insecurity and Ross says when new figures come out next year, that number will be even higher.
"I just don't see how it can't be.
"We are looking at a 20 per cent increase for food overall … as much as 131 per cent for just celery, about 16 per cent for turkey, or 26 per cent for jam," Ross said.
"I just don't see how families will be able to keep up."
To make a donation to school nutrition programs over the holidays, go to bb4ck.org or breakfastclubcanada.org.
eferguson@postmedia.com