Article content
When Ottawa neurologist Dr. Elizabeth Pringle learned that singer Céline Dion had been diagnosed with stiff person syndrome, she knew immediately what that would mean for her performing career.
Article content
Pringle has treated patients with the extremely rare neurological disorder and has seen the devastation it can wreak on their lives.
Article content
"When I first read the news I thought: 'That is too bad. This isn't a good thing for someone in that business to have.'"
Not only does stiff person syndrome severely impact a person's ability to move, but sounds and stress — which are part of a high profile performing career — can trigger painful muscle spasms.
The internationally renowned Quebec-born pop singer announced last week that she had been diagnosed with the progressive disorder that got its name because its symptoms usually include rigid muscles in a person's torso, arms and legs, giving them a gait that has been compared to the Tin Man in the Wizard of Oz.
Article content
Patients also have heightened sensitivity to sound, distress and touch.
Stiff person syndrome can be difficult to diagnose and its mechanism is not completely understood, said Pringle.
It is thought that the immune system in people with the disease mistakenly attacks an enzyme which plays a role in producing a vital neurotransmitter called gamma-aminobutyric acid (GABA). That decreases the amount of GABA in the body, leading to painful and debilitating symptoms. It is often diagnosed in middle age, said Pringle, and is more common in women than men.
There is no cure, but the symptoms are often managed with oral therapy, including high doses of benzodiazepines, such as Valium, said Pringle. Treatments such as Botox and ultrasound are also used to manage symptoms.
Article content
"It is a treatable, but not curable, disease," said Pringle.
And while scientists and health professionals do not consider it a cure, stem-cell transplants have successfully put some patients into remission. The Ottawa Hospital is a leading centre for the therapy.
Ottawa-based scientist and stem-cell pioneer Dr. Harold Atkins was working on stem-cell transplants as a treatment for other auto-immune disorders and knew nothing about stiff person syndrome when a patient with the disease begged him to perform a stem-cell transplant on her a decade ago. Atkins, director of the Regenerative Medicine Program at the Ottawa Hospital Research Institute, researched it and agreed to go ahead.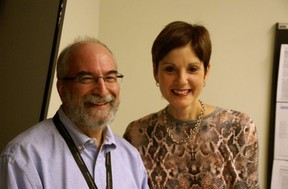 One of the patients, Tina Ceroni, received a stem-cell transplant in 2011.
Article content
Prior to the treatment, the disease had left the Ontario woman's life in ruins. A kinesiologist, she was training for an Ironman half-triathlon when she began to experience symptoms and was eventually diagnosed with stiff person syndrome. She lost her fitness business, could no longer drive and moved back with her parents because she could not be alone. Something as small as small as a loud noise or cold air could trigger painful muscle spasms, and send her to the hospital.
"I was very sad to hear the news about Céline Dion as I know how devastating this disease can be," Ceroni said this week.
She applauded the singer for having the courage to share her diagnosis publicly.
"This will hopefully benefit many other people living with this challenging disease."
Article content
While doctors hesitate to describe the results of stem-cell treatment as a cure, patients such as Ceroni say it has given them their lives back.
The results of the first two transplants were published as case studies in the prominent JAMA Neurology and garnered Atkins and his team attention from people outside Canada seeking treatment.
Most of the Ottawa patients have done well, but not every patient who undergoes the dramatic and risky procedure has such successful results, said Pringle. In some centres performing the procedure stem-cell transplants have had about a 50-50 success rate, she noted.
The impact of the disease on a person's muscles can lead to bad falls, she said, often leading to severe anxiety about walking and falling.
For a performer known for her active and passionate performances at venues such as Las Vegas, the impact is massive.
In an Instagram post earlier this month, Dion said she had been dealing with health problems for a long time. Those had forced her to cancel a series of shows and tours.
"It's really difficult for me to face these challenges and to talk about everything that I've been going through."
Céline Dion has a tough road ahead, but her diagnosis brings hope to others

Céline Dion cancels the rest of Courage World Tour due to muscle spasms